While the diced raw fish dish known as poke (pronounced POH-kay) is becoming increasingly trendy in recent years, it's no fad for the people of Hawaii. It's actually a staple of Native Hawaiian cuisine, traditionally served with sea salt, candlenut, seaweed, and limu; in its present form, poke has been popular in North America since around 2012. Some Hawaiian eateries serve the traditional version of poke, while others have branched out to offer eclectic and modernized varieties, adding avocado, mushrooms, cilantro, pineapple, or ponzu and teriyaki sauces.

More and more poke restaurants are popping up across the Mainland each year, but you'll definitely want to try the dish in its area of origin. Fortunately, there are plenty of fabulous poke spots in the Honolulu area for you to try out! We've compiled a guide to help you find the best of the best.
Owned by renowned chef Reno Henriques, this poke restaurant and deli serves up seafood in their self-professed "Island Style." The menu is robust and packed with plenty of variety, including local favorites like Ahi Limu Poke and Spicy Ahi Poke. Lunch plates like Ahi Katsu, featuring breaded ahi filets, two scoops of rice, and furikake on a bed of greens and topped off with Chef Reno's Savory Sauce, are full of incredible flavor.

For a party or event, consider using Fresh Catch's catering! Design and order a stunning platter of fresh ahi, salmon, or poke, or opt for delicious Hawaiian specialties like Kalua Pig, Squid Luau, or Lomi Salmon. In addition to the Honolulu location on Waialae Avenue, Fresh Catch has expanded to Kaneohe and Pearl City as well.
Pronounced "kaw-hee-ow," kahiau means "to give from the heart." This is the motto at Kahiau Poke & Provisions, where husband and wife team Hinano and Tiara aim to give back to the community by serving fresh food that's made from locally sourced ingredients. Today, the restaurant thrives in Chinatown, where it originally existed at farmers markets and craft fairs.

Kahiau declares that their fish is "always fresh, never frozen"—something that's apparent to diners after just one bite of their incredible seafood dishes. A variety of poke is available, from Cold Ginger to Spicy Ahi to the sweet and salty Kahiau Special, a house mix that blends local limu seaweed with onions. You can buy this delicious and fresh poke by the pound or in a poke bowl that contains two different types, as well as rice. There's even a "poke bomb" entree: inari sushi filled with spicy tuna poke!

If you're looking to branch out from poke, Kahiau has a bunch of local Hawaiian provisions to offer. These include the Hawaiian Plate, featuring lau lau, kalua pig, and steamed white rice; a kimchee spiced cucumber salad; and the popular limu kohu chili pepper water.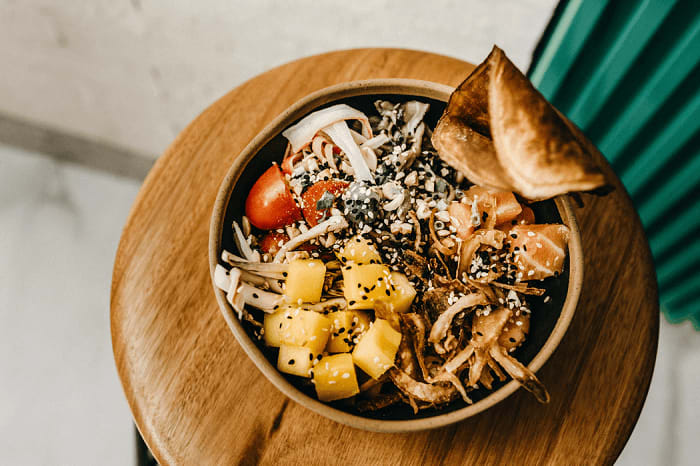 This hole-in-the-wall spot on Kapahulu Avenue may not look like much from the outside, but step inside and you'll be greeted by an incredible array of poke. Nine different kinds of poke are available, including shoyu ahi, miso ahi, spicy tako, and more. Ono Seafood is known for its delectable shoyu, a Japanese-style soy sauce, which they blend with a secret mixture of seasoning to achieve a unique and tasty flavor.

Ono is the place to eat if you want to dine like a local. People flock here daily to grab an incredible poke bowl. Add your own favorite toppings, like pickled onions and spicy Korean taegu, to a regular or large-sized bowl, and choose a type of rice and flavor style to complete the dish!
Home to the original poke bowl, Pa'ina Cafe is a must-stop for anyone craving a refreshing lunch. Here, guests can choose from a variety of poke and toppings to customize their meal to their liking. Opt for shoyu ginger salmon with tempura flakes and seaweed salad, spicy tuna Yamakake style, or try one of their daily poke specials for an innovative meal. Additionally, Pa'ina Cafe touts several other menu items, including plates, sandwiches, and salads. "Pa'ina" means gathering, and at Pa'ina Cafe, they believe that good food fosters relationships by inspiring conversations, creativity, fun, and happiness—and their playful menu makes that possible.
Local seafood market Poke by the Pound states that they were born from "love and respect of the ocean and fish," and this is evident in their amazing, locally sourced seafood dishes, which use only local fish to support Hawaii's fishermen. All fish is properly cured and stored until it's added into Poke by the Pound's amazing poke bowl recipes.

Poke by the Pound's delicious offerings include Marlin Poke, which blends marlin, limu, sweet onion, and Hawaiian chili. There's also the Hawaiian Salt poke, which features ahi and sweet and green onions, as well as the popular Spicy Tuna poke with ahi, spicy mayo, and masago. If you're a bit hungrier and want to try a plate, check out the ahi steak served with garlic and capers or the furikake salmon drizzled with a savory butter-teriyaki sauce.
This cozy and colorful poke restaurant is popular with tourists and locals alike! Located in a scenic area of Honolulu, this is the perfect spot to kick back and relax with a fantastic seafood meal. The plates of food are colorful and Instagram-ready, and with plenty of flavors to choose from, you can't go wrong!

Select a base for your poke bowl—white rice, brown rice, green salad, or sushi rice—and choose one (or two!) types of poke to enjoy. There's Spicy Ahi Poke, which blends masago with the restaurant's secret-recipe spicy sauce, and Cold Ginger Ahi Poke, a crowd favorite. For the major spice enthusiasts, check out the Kilauea Fire, an ahi poke served with chili miso sauce, jalapeno, and red pepper. Want to take some poke on the go? Not to worry. Off the Hook allows customers to grab a quarter-pound, half-pound, or whole pound of a la carte poke.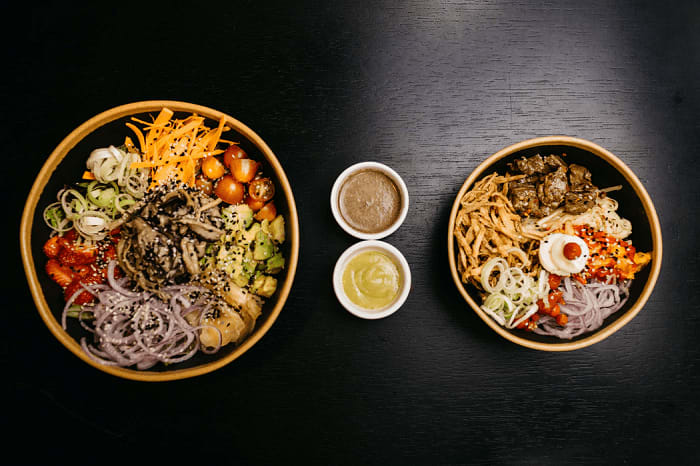 This poke spot is perfect for visitors hoping to experience the true Hawaii spirit. Born out of a desire to spread culinary aloha, Poke for the People does as its name implies: serves up fresh and delicious food that reflects Hawaii's spirit and melting pot culture.

Diners can assemble their own poke bowl by choosing from spicy tuna, spicy shrimp, shoyu ahi, shoyu furikake salmon, sesame onion ahi, wasabi masago ahi, spicy miso ahi, hamachi shiro shoyu, Papa's Original Ginger Onion Poke, limu inamona ahi, spicy shoyu ahi, ninniku goma ahi, and other daily specials that may pop up from time to time. Note that some of these poke types are offered only on specific days, but regardless of the day of the week, Poke for the People has something amazing to offer! Poke bowls are topped off with crab salad, edamame, ocean salad, pickled ginger, furikake, and unagi sauce drizzle, creating a true feast of flavor.
If you're out running errands, add grabbing a poke bowl from Foodland to your to-do list! Not only can you pick up your weekly groceries, but this supermarket also prepares fresh poke daily and always offers a varied selection of fish and toppings, so it's the perfect spot to grab a bite to eat. With store-specific recipes, each Foodland offers a variety of poke, from ahi to tuna and more. Whether you eat your poke bowl as is or use Foodland poke to craft dishes of your own at home, this is a must-visit for any poke lover and has been voted "Hawaii's Best Poke" for nine consecutive years!
This super-popular restaurant is known for its down-to-earth island vibes and incredible poke bowls—not to mention their sushi rolls and bento boxes. Located on Keeaumoku Street, Fresh Ahi Off the Boat features a menu jam-packed with amazing seafood, including fresh ahi that's delivered daily from nearby Pier 38!

Try one of the various original poke bowls, like Tsunami or Hurricane, all of which come with tasty miso soup. The bento boxes featuring spicy ahi, salmon, ahi nigiri, and salmon are also worth checking out if you're hoping to experience some more delicious, Japanese-inspired meals. Make sure to come back for some hand-rolled sushi, like the yummy Cali Poke Rolls or Unagi Maki. And of course, Fresh Ahi Off the Boat will be happy to cater your next event, delighting your guests with fresh seafood platters and flavorful sushi.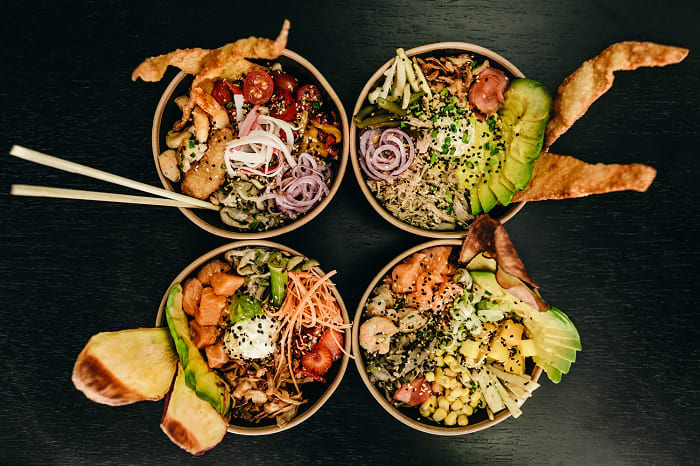 Maguro Brothers is a beloved local spot for enjoying the freshest and most flavorful seafood Hawaii has to offer. Known for their sashimi, grilled fish, and ahi poke served over rice, you're certain to find something at this restaurant to love!

Owned and operated by brothers Junichiro and Ryojiro Tsuchiya, the charming Chinatown location has been open since 2014. Don't be overwhelmed by their large and eclectic menu written out on a stylish chalkboard—you can't go wrong with Maguro Brothers' excellent and well-known poke. The menu features some of the most popular poke flavors, which include spicy mayo, shoyu onion, and Hawaiian, a delicious combination that blends limu seaweed, Hawaiian sea salt, sesame oil, and chili pepper. If you're hoping to branch out a bit and try something new, you may enjoy unique flavors like ume shiso poke or chirashi, a fantastic mix of ahi, king salmon, hamachi, and octopus sashimi.

Maguro Brothers does offer four indoor tables if you'd like to eat at the restaurant, but plenty of customers chose to grab their poke on the go. Park on the street and run in to pick out your lunch or dinner! If you've got a big family or a party happening at home, consider one of Maguro Brothers' amazing poke or sashimi platters. There will be plenty for everyone to enjoy!

Browsing Honolulu, HI real estate to find your perfect home? Contact Tracy Allen, Hawaii realtor, today! We'll be happy to assist you in your search for Honolulu luxury homes.