O'ahu
Tonggs Beach
Located in Honolulu's Diamond Head neighborhood, Tonggs Beach is a great spot for experienced and new surfers. It's a lot less popular than many of the popular beaches like Ala Moana Bowls Beach and Sunset Beach. Hidden from the wind, the waves are very manageable, and it's perfect for both longboards and shortboards alike.

Other than its great surfing opportunities, it's also known for its gorgeous sunsets. While you're here, you may even see some fish from the Hawaiian reef. If you're looking to do some swimming afterward, this is a great place to go as Hau Tree Beach is just a quick walk away. If you like fishing, there are opportunities to do that at Tonggs Beach as well.
Goat Island
Goat Island is one of the best places to surf in Honolulu if you're looking to get away from the crowds. It used to be home to goats, as its name suggests, but today it is known for its reef and wonderful diving and surfing opportunities. Its lack of crowds and stunning views makes for a peaceful and relaxing time while you hit the waves. It promises a unique experience from other beaches and islands as you have to walk through the water currents to reach the island itself.

The island is also a wonderful place to do some other fun beach activities like having a picnic, swimming, playing a game of volleyball, or looking at the reef—just make sure to bring some water shoes! Goat Island is considered to be a bird sanctuary, so look out for a variety of different birds while you're here. Snorkeling, scuba diving, and paddleboarding are other popular activities you can enjoy at Goat Island. Visitors have described Goat Island as an unforgettable Hawaiian adventure, with lots to do and lots of sights to see, surfing included!
Yokohama Bay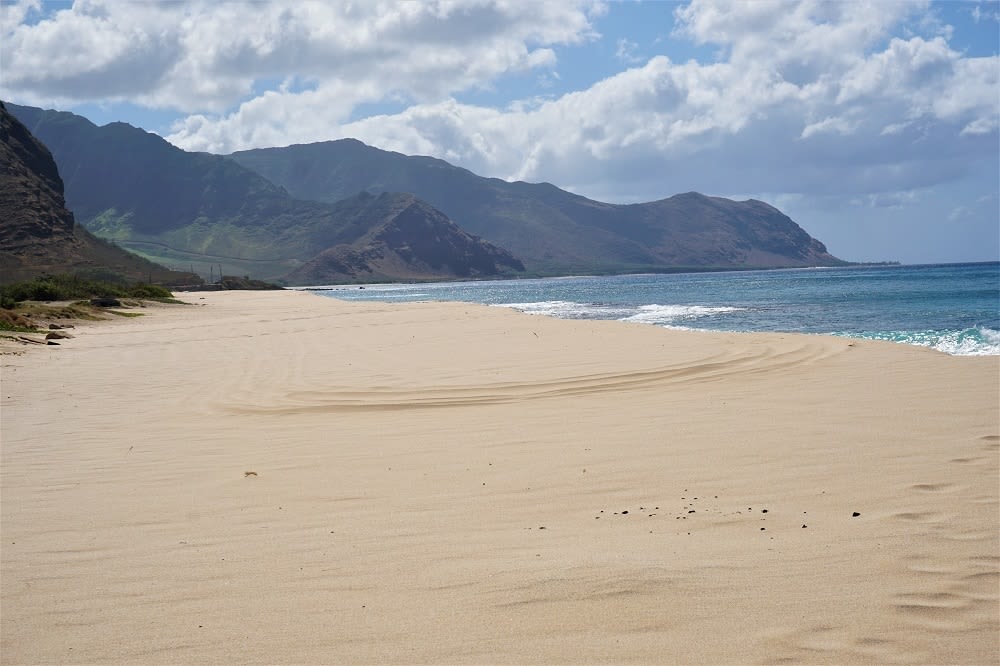 Credit: Best of Oahu

If you want to see some dolphins and catch some waves, head to Yokohama Bay. This Oahu spot is one that isn't well known to tourists but is well-loved by Honolulu locals. It is a beautiful sandy beach, with great waves that make for a great surfing trip. While you're here, you'll be able to see some unique scenery, such as the Waianae Mountain Range. It is far away from any residential areas, so you'll be surrounded by the ocean and nature the whole time you're here. As for experience level, the waves here are known to be large, so this beach is best for surfers who already have experience navigating waves of this size.
Ehukai Beach Park
Ehukai Beach Park is not a beach meant for swimming trips, but it is a great place to go surfing. The waves at this beach are known for being large and gorgeous, perfect for a surfing trip. The wind at this beach helps to make them so large. Due to their size, this beach is especially perfect for the experienced surfer, with some of the waves even being described as "monster waves." The waves you might see here can be larger than 25 meters at times.

If you're a beginner, this may not be the spot for you, but if you're experienced and looking for a challenge, it makes for the perfect trip. Other popular activities to do while at this beach are sailing, fishing, and scuba diving. While you're at Ehukai Beach Park, you'll also get to experience the stunning environment it is a part of, including its gorgeous sunset.
Populars
Located in Oahu's south shore, you'll find Populars, also commonly nicknamed and referred to as "Pops." Unlike its name, this spot is the perfect place to go if you're looking for a hidden place to surf away from the crowds. It's a part of Waikiki but less populated than most of the rest of the breaks there due to the long paddle out it takes to get to it. The paddle to get to Popular's is definitely worth it! When you get there, you're in for waves that are perfect for both longboards and shortboards. It is known as a great place for people who are learning how to surf, with waves that are soft and gentle.
Paradise
Like Populars, this surf break is also located in Waikiki. This is another less popular break located on this popular beach, and it has great waves to discover. The waves here are known to be consistent and highly surfable. The great thing about the nature of the waves here is that it is perfect for a relaxing time surfing. It also makes it great for people just starting to learn how to surf, as well as for more experienced surfers looking for some more laid-back waves to surf. To get there, it requires paddling, also like Pops. If you love longboarding or stand-up paddle surfing, this is the spot for you.
The Big Island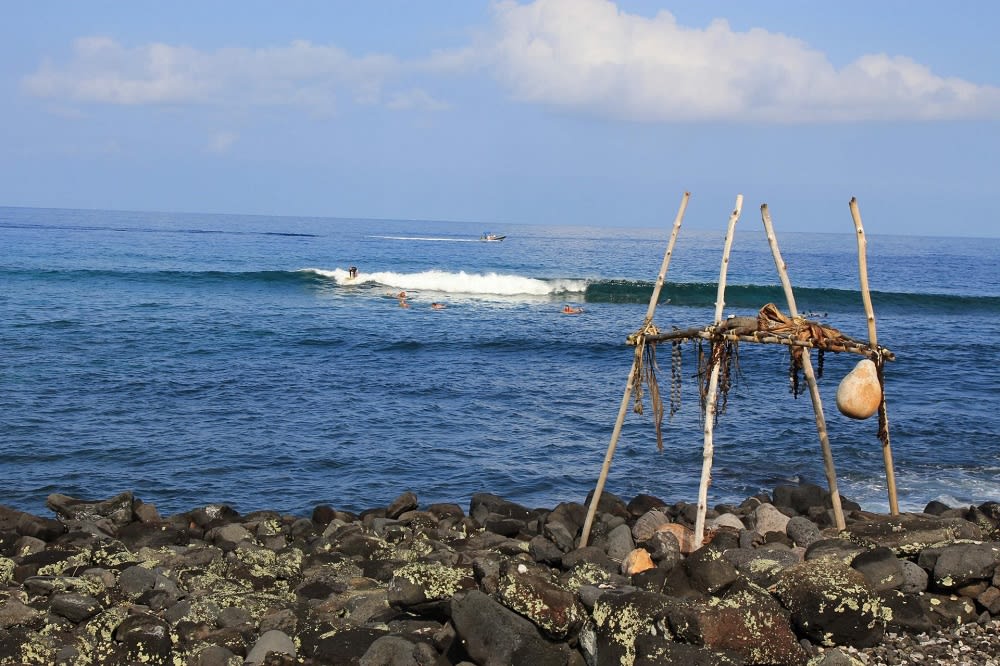 Credit: Go Hawaii

Another great place to go to catch some waves is known as The Big Island. The island is known for its large size, and there are few different places known for surfing, with the best places being the east and west coast. These beaches are some that you might want to visit for a great surfing experience:
Pine Trees
Kahaluu Beach
Honolii Beach Park
Anaehoomalu Bay
Being a large island, there is a lot to explore here other than its waves. In between surfing, you can visit the Hawai'i Volcanoes National Park, where you can hike through the lava lake, see some ancient petroglyphs, and so much more that you can't experience anywhere else. If you're looking to catch some waves, but also to explore some history or do other activities, The Big Island may be the ideal place for you!
Kaua'i
If you're an experienced surfer looking to surf among reefs, Kauai is a great surf spot for you. Also known as "The Garden Island," this surf spot is known as one with the best, most exciting waves you can see. This island has created some of the best professional surfers in all of Hawaii. Most of the break areas for surfing are reef breaks like Polihale, Kealia, and Hanalei, rather than beaches, so these areas are more suited for experienced surfers. However, Hanalei is a great beach spot within the area that is very beginner-friendly!

Other than its surfing opportunities, Kauai is known for its gorgeous views all year round. There are a lot of trails for walking here, perfect for hiking. Some of the best places for hiking are Kalalau Trail and Waimea Canyon—you really can't beat the scenery here, proving that it's known as The Garden Island for a very good reason.
Maui
Honolua Bay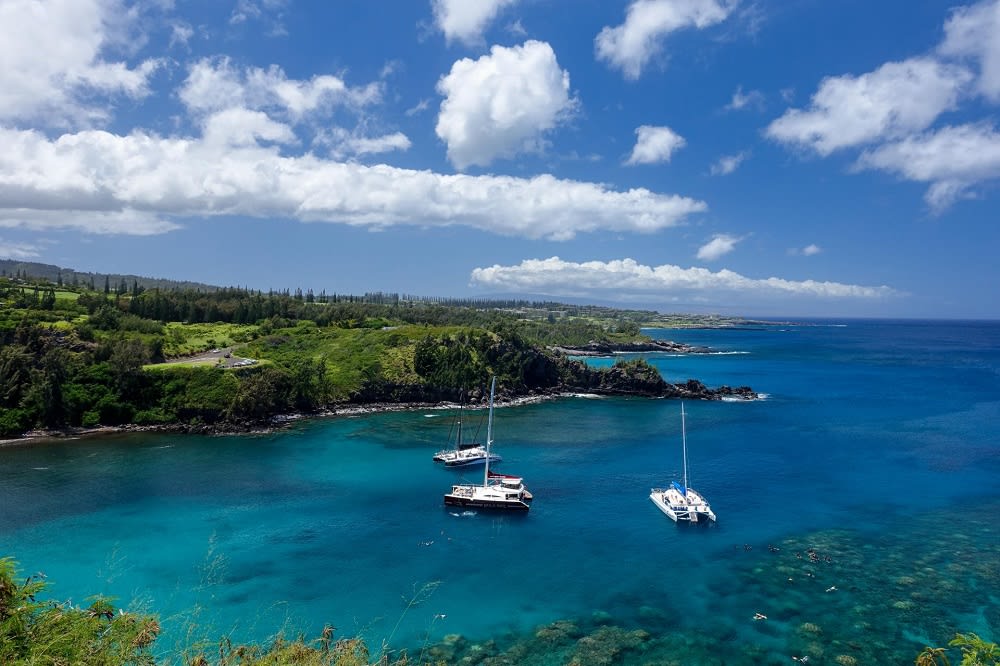 Credit: Go Hawaii
Honolua Bay is a great place to go surfing and usually doesn't draw too many crowds, especially in the mornings. This is one of the more popular spots on the list, but still a great spot you don't want to miss. The surfing here is known as the ideal surf spot due to its large, picturesque waves. Honolua Bay is a great place to be beyond its surfing opportunities too.

One of the things it's most known for is its snorkeling. The area doesn't allow for any fishing, meaning there is tons of marine life to see. You'll see Hawaiian Green sea turtles, colorful fish, corals, and other sea life. Other wildlife you might see at Honolulu bay are eagle rays, lobster, and even dolphins. If you're looking for a spot where you'll not only be able to surf but also see some Hawaiian wildlife, Honolua Bay is the place you won't want to miss.

Experience More Hawaii

The amazing surf spots are just one of the ways to enjoy the beauty of Hawaii. If you're looking for Honolulu luxury real estate, contact Tracy Allen. The amazing waves of Honolulu and so much more await!