Home to Hawaii's state capital, Oahu is iconic for its breathtaking beaches and sunny weather. However, Oahu also boasts delicious and diverse food trucks that will keep you coming back for more.


Given that it's surrounded by the ocean, Oahu has no shortage of shrimp food trucks, especially those that specialize in garlicky shrimp. Local Hawaiian cuisine is also served at many food trucks throughout the island. More surprisingly, you can find some of the most excellent Thai and Mexican food trucks in Oahu. If you have a sweet tooth, your tastebuds are in for a tasty delight too.


If you're looking to enjoy some flavorful beachside snacks, dishes, or treats here are the best food trucks to try in Oahu!
Giovanni's Shrimp Truck
Opened in 1953, Giovanni's started as a modest shrimp truck that quickly grew into an Oahu staple. Giovanni's is known for its graffitied exterior, which includes signatures from customers and employees alike. The tradition started in 1993 and has continued with thousands of people leaving their mark on the food truck.


Giovanni's menu is simple yet bursting with flavor. Plates include a dozen jumbo shrimp cooked in either a garlic, hot and spicy, or lemon butter sauce. All shrimp are served with the traditional Hawaiian two scoops of rice. The food truck's most popular dish is the garlicky shrimp, which is marinated in fresh garlic then served with garlic lemon butter and caramelized garlic chunks. The strong garlic taste is so beloved that Giovanni's even started making a jumbo garlic hot dog platter.


Eating at Giovanni's Shrimp Truck is an absolute must in Oahu!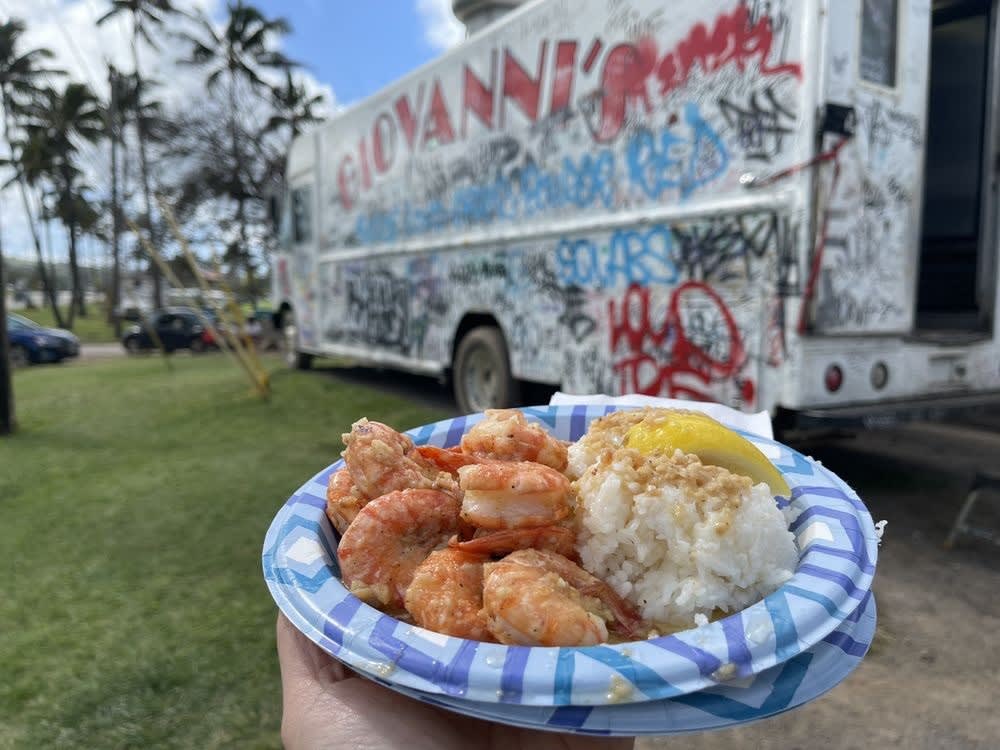 Credit: Yelp
The Elephant Truck
Located on Oahu's iconic North Shore, The Elephant Truck serves up an array of authentic Thai dishes. For an appetizer, order the cool spring rolls with peanut sauce. One of the most well-liked plates is the pad Thai, which can be made with chicken, shrimp or tofu. The Kapow is another go-to dish, which is ground chicken cooked in a Thai basil sauce and topped with a fried egg. The Elephant Truck also makes smooth yet spicy coconut curries alongside jasmine rice. Thai food is known to be spicy, so make sure you order a soothing Thai iced tea if you want to better handle the heat.


If you've got a hankering for Thai food, The Elephant Truck is sure to satisfy your craving!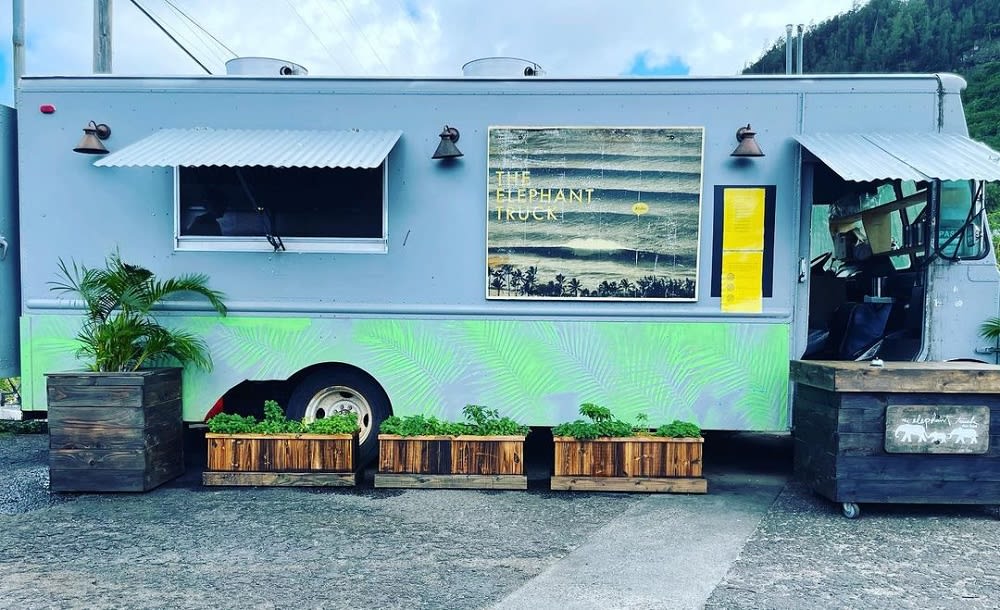 Credit: The Elephant Truck
Leonard's Bakery Malasadamobile
Since 1952, Leonard's Bakery has been making malasadas — a Portuguese donut with no hole — and other divine baked goods. Made with a special dough, the malasadas are shaped by hand into round balls and then fried until golden brown. These heavenly pastries are then coated in sugar. Once you take a bite into a malasada, you'll be in awe of the crispy outside and light inside. The Malasada Puffs are the same specialty stuffed with a filling of your choice.


Apart from its crave-worthy malasadas, the Portuguese food truck serves other yummy pastries. The pao doce — or Portuguese sweet bread — is another must-try. Leonard's Bakery also bakes traditional donuts and loaves of bread, along with cookies, cupcakes, muffins, pies, and cakes.


For something savory, try one of the wraps at Leonard's Bakery. Similar to a kolache, these are Portuguese sausages wrapped in the food truck's famous pao doce and baked. Be sure to order a hot coffee, cocoa, or tea to enjoy with your pastry too!


Leonard's Bakery Malasadamobile is an Oahu legend when it comes to unique and tasty baked goods.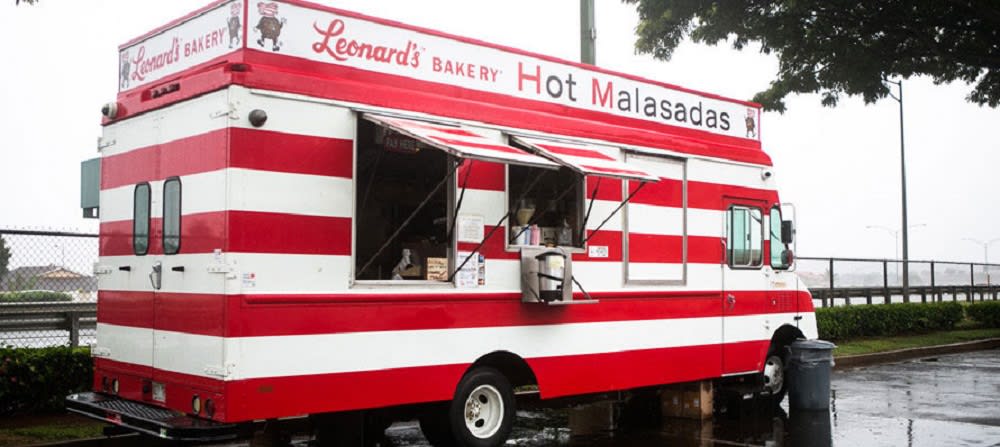 Credit: Yelp
Pupukea Grill
Pupukea Grill
offers Hawaiian street eats using local fish and produce. The food truck is located right across from Shark's Cove, a set of tide pools at Pupukea Beach Park that are excellent for snorkeling!
A favorite place among surfers, this island food truck features local-style plates. The Ahi Moco Loco is onion and garlic-cooked Ahi topped with eggs and lemon caper butter sauce and served with rice. The Shoyu Chicken is teriyaki chicken thighs topped with pico de gallo and served alongside macaroni salad.


Pupukea Grill serves a variety of bowls, wraps and salads as well. There is even a small selection of Japanese and Mexican food dishes, like sushi and tacos. Don't forget to save room for dessert! Try their scrumptious homemade banana bread or chocolate cake with guava and beet buttercream frosting.


This easygoing food truck is accommodating to different dietary restrictions too. Pupukea Grill has specific vegetarian, vegan and gluten-free menus.


Grab some local food at Pupukea Grill for a complete Hawaiian experience.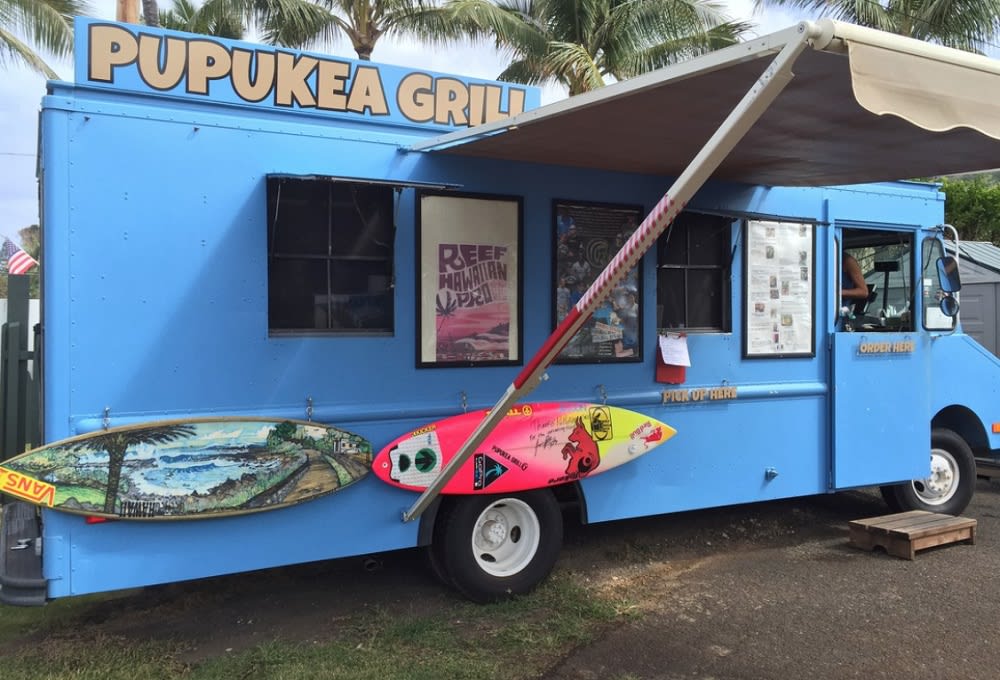 Credit: Roaming Hunger
Ono Yo
Ono Yo
makes simple frozen yogurt and acai bowls using all-natural ingredients.
This food truck has the most mouthwatering froyo and acai bowls in Oahu. Not only are Ono Yo's frozen yogurts and acai bowls flavorful, but they're healthy too! Customize your sweet treat by starting with either a frozen yogurt or acai base, which both come in a variety of different flavors. Then top the bowl off with items of your choosing, such as fresh fruit, sweet and crunchy toppings, or sauces.


Ono Yo has a selection of its creamy creations too. The Wild Berry Bowl includes a base of your choosing and is topped with blueberries, raspberries, blackberries, and condensed milk. The Bliss Bowl is another great option, which has the base of your choice, granola, sliced almonds, banana, and honey.


Ono Yo is the perfect place to go if you're looking for something refreshing after a long day at the beach.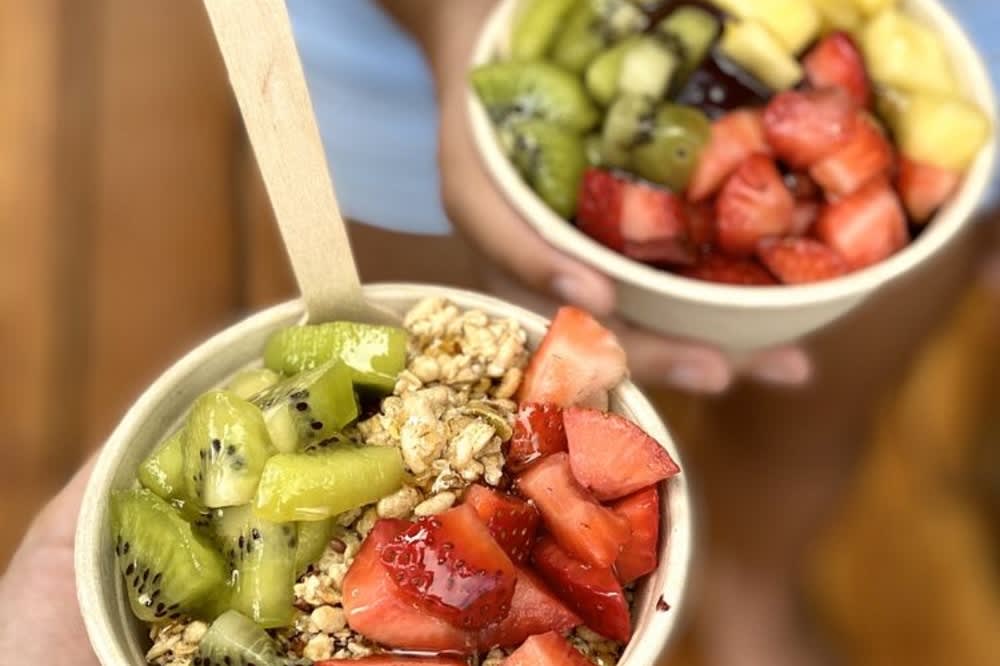 Credit: Yelp
North Shore Tacos
North Shore Tacos uses only the highest quality ingredients for its handmade nachos, quesadillas, tacos, burritos, salads, desserts, and drinks. Customers choose which type of plate they want and then select a protein, such as shrimp, fish, beef, chicken, pork, or a vegetarian mix. All dishes are accompanied by beans and chips with salsa or guac.


If you want something sweet, try the fluffy Tres Leches Cake or creamy Coconut Caramel Flan. North Shore Tacos also crafts made-to-order drinks to go with their Mexican cuisine. The Pineapple Tiki is by far the most popular, as it comes in a freshly cut pineapple complete with a cocktail umbrella!


North Shore Tacos serves up the freshest Baja-style food and drinks in all of Oahu!
Fumis Kahuku Shrimp
This Hawaiian food truck whips up shrimp dishes and island sides. Fumis harvests its shrimp every morning, so you know you'll be getting the freshest plate possible. Shrimp can be cooked au naturel or in a variety of bold styles. Get adventurous and add a butter garlic, lemon pepper, spicy garlic, or salt and pepper sauce to your shrimp. Breaded options include golden brown coconut shrimp and tempura shrimp.


If you want something other than seafood, order the Chicken Katsu, which is tender and crispy panko fried chicken. Sides at Fumis include two scoops of rice, a slice of juicy pineapple, and a light salad. Fumis sells Hawaiian guava and passion orange canned juices to pair with your meal too.


Head to Fumis Kahuku Shrimp for a shrimp platter worth the raves.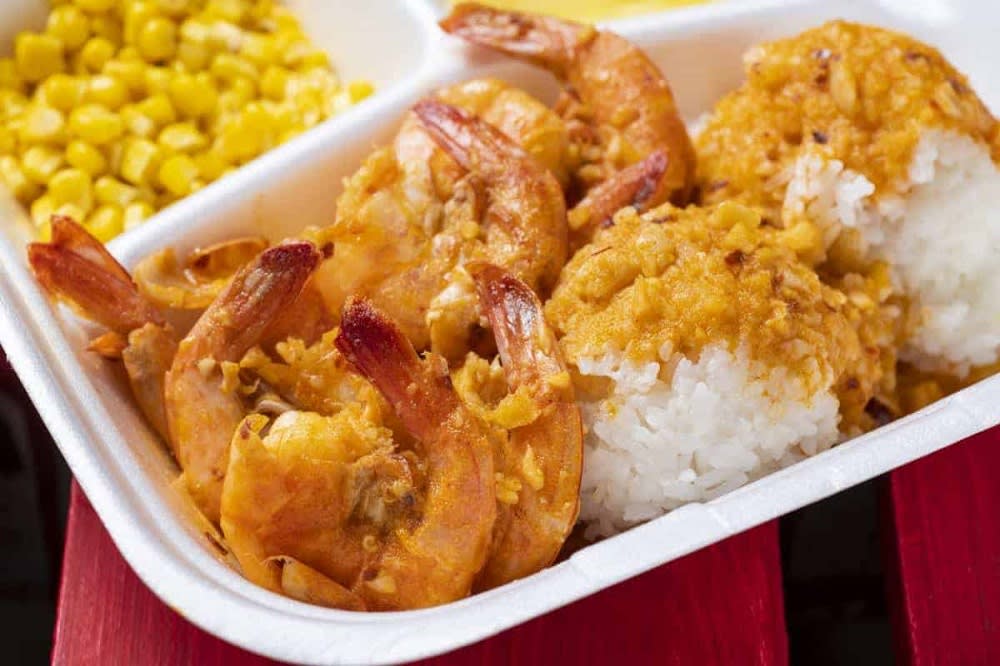 Honolulu luxury real estate
Interested in upgrading your Oahu home to something grander? Contact
Tracy Allen
to learn about Honolulu luxury homes for sale! As the top individual sales agent in all of Hawaii, Tracy's comprehensive market knowledge and skill will help you find the property of your dreams. For access to the finest Honolulu, HI real estate, collaborate with none other than Tracy Allen.