Honolulu is known for its well-kept plants and green spaces. With palm trees flourishing in each corner, everywhere you look is a gorgeous sight to see. The golf courses on the island are no exception to this tip-top level of care, as Honolulu is home to several award-winning golf courses.

Whether you're looking to find a second home in a club or are looking for a course on your vacation, Honolulu offers numerous public and private courses to choose from. We've curated a list of the best golf courses in Honolulu, including their location, type of access, number of holes, and most notable features. It's safe to say that these golf courses are a hole-in-one.


Location: 57-091 Kamehameha Hwy, Kahuku, HI 96731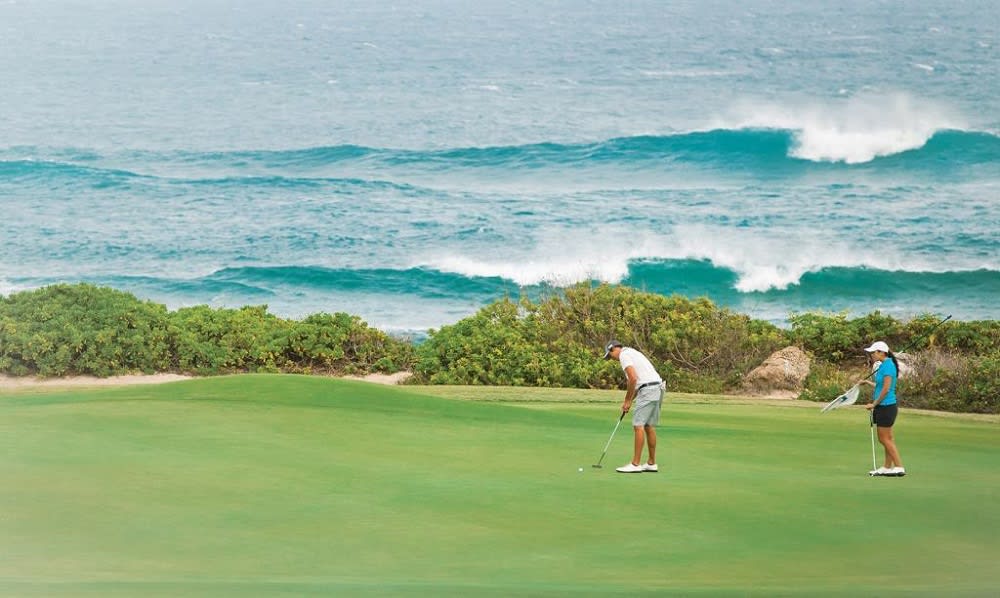 Image courtesy of Turtle Bay.

Turtle Bay features three 18-hole golf courses with no membership required. Course #1 is named after American golf legend Arnold Palmer. This course is one of the best on the island, as it's the perfect challenge for any avid golfer. Designed in 1992, the Arnold Palmer Course received several awards for its resort design. Here, golfers will be challenged in the front nine, as the course features a Scottish Links-style layout. The back nine provides golfers with a tropical setting native to Honolulu as the perfect way to finish a round. Most notably, the 17th hole will provide golfers with a panoramic view of the Pacific Ocean.

The newest course, opening summer of 2021, is named after another golf legend, George Fazio. This course was originally opened in 1972, but it is undergoing a refresh. However, the beautiful Hawaiian views are guaranteed to stay the same. The course is perfect for all levels and is more forgiving than the Arnold Palmer course. The course also hosted the LPGA Tour's Hawaiian Open, so guests get a little taste of history as they challenge their skills.

The third course, The Breaks, is an 18-hole putting course. The Breaks are a fun and exciting challenge for all golfers. This 90,000 square-foot course was designed by the resort's PGA golf professional team. Golfers can putt along the North Shore to par on all 18 holes. With these three courses and $20 per day of unlimited play, Turtle Bay may become your go-to golf course as you vacation in Honolulu.
Location: 4997 Kahala Ave, Honolulu, HI 96816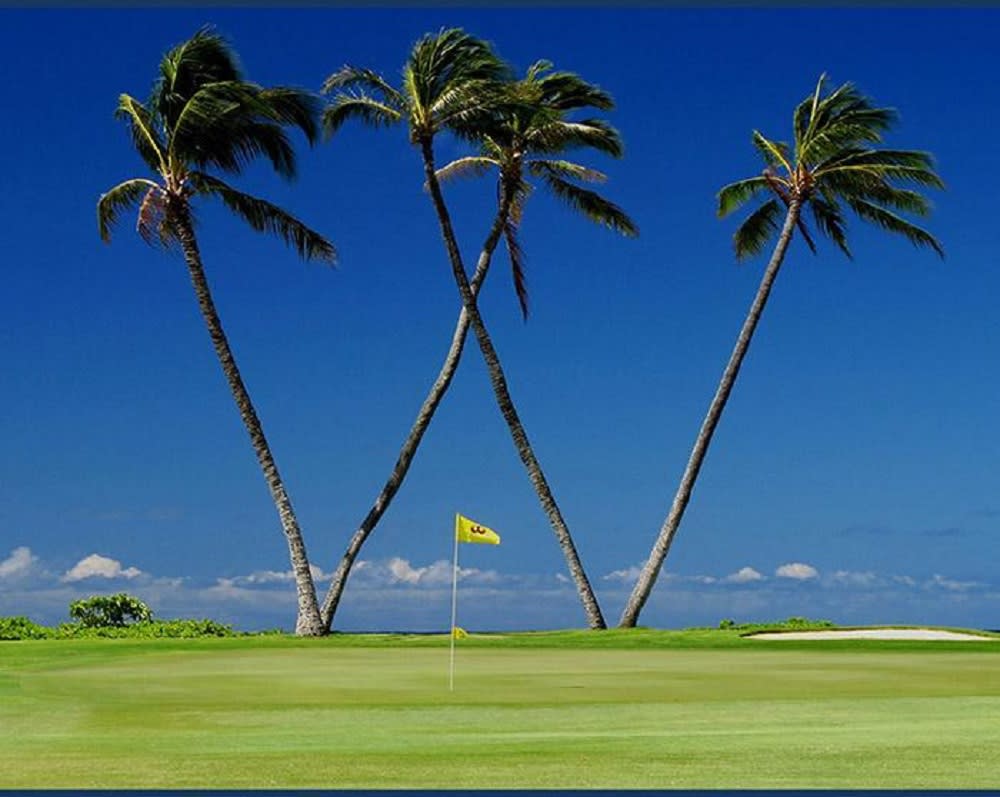 Image courtesy of Waialae Country Club.

The Waialae Country Club was opened for play in 1927 as a way to bring luxury travel trade to Hawaii. The private club was developed in 1930 by a group of local players. This 18-hole course hosts the Sony Open in Hawaii, which is a stop on the PGA Tour.

The course's initial design was created by Seth Raynor, but it has since undergone various updates to include a player-friendly championship course, 83 strategic bunkers, and kiawe trees. Unique and outstanding features and designs on the course can be found upon the following holes:
8th hole — Patterned after the famous Redan hole on the North Berwick Course in Scotland.
10th hole — Introduces features of the 17th or Road hole at St. Andrews in Scotland.
13th hole — The par three is designed from one on the Biarritz Course in France.
16th hole — Designed similarly to the 6th hole of the National Course at Southampton, Long Island.
Becoming a member of the Waialae Country Club will give you and your guests exclusive access to the course and facilities. Highlights of becoming a member include access to:
250-yard practice range
Chipping and putting green
Full-service snack bar
Professional instruction
Location: 92-1220 Aliinui Dr, Kapolei, Oahu HI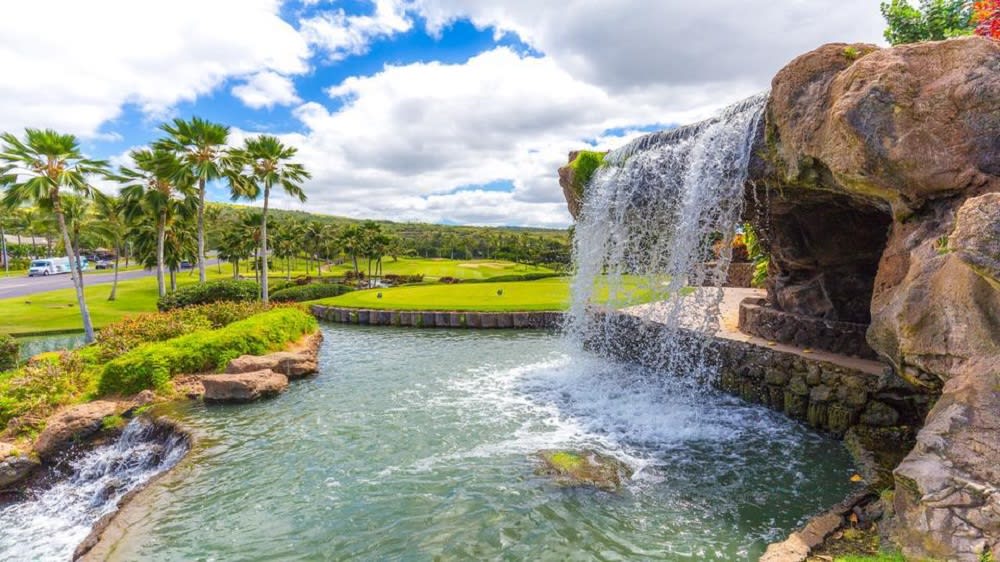 Image courtesy of Ko Olina Golf Club.

The Ko Olina Golf Club is "Hawaii's Best Golf Course" according to Honolulu Star-Advertiser. This public course strives to bring the best golf experience to every guest through the spirit of Aloha and excellent customer service; however, this isn't Ko Olina's only award. Golf Digest rated Ko Olina in the "Top 75 Resort Course in the U.S," so if these accolades aren't enough to make you book a tee time here, keep reading.

Ko Olina is a public, 18-hole course featuring water spots, multi-tiered greens, and large landing areas. The course's moderate length makes it manageable for beginners, but it's still enjoyed by experts. Before and after a round on the green, you'll have access to the beautifully designed clubhouse. The 35,000 square foot space is equipped with locker rooms with showers, steam rooms, and Jacuzzis that guests can take advantage of, all while taking in views of the course.

The clubhouse is also home to a comprehensive golf shop, voted the top Resort Shop by the Retail Merchants of Hawaii. At Ko Olina, your entire experience will feel like a luxury, so whether you're visiting the island or you call Honolulu your home, this is a course you won't want to overlook.
Location: 1690 Ala Puumalu St, Honolulu, HI 96818
Image courtesy of Honolulu Country Club.

The Honolulu Country Club is hidden in the center of the city; however, the location doesn't mean you won't be accompanied by gorgeous views and a challenging course. The private, 18-hole course was designed by golf legends Arnold Palmer and Francis Duane and opened in 1977. The Honolulu Country Club golf course focuses on challenging all players' precision versus length. Challenges, including frequent bodies of water, provide a test of patience and precision.

As a member of this private and prestigious country club, you'll have access to the course along with the clubhouse featuring several amenities. These amenities include:
Snack shop
Two restaurants
Meeting rooms
Full-service golf shop
Locker rooms
Sauna
Steam bath
Grille room
Swimming pool
Becoming a member of the Honolulu Country Club will give you access to all of this in the heart of the city because they recognize that sometimes the best things in life are nearby.
Location: 150 Country Club Rd, Honolulu, HI 96817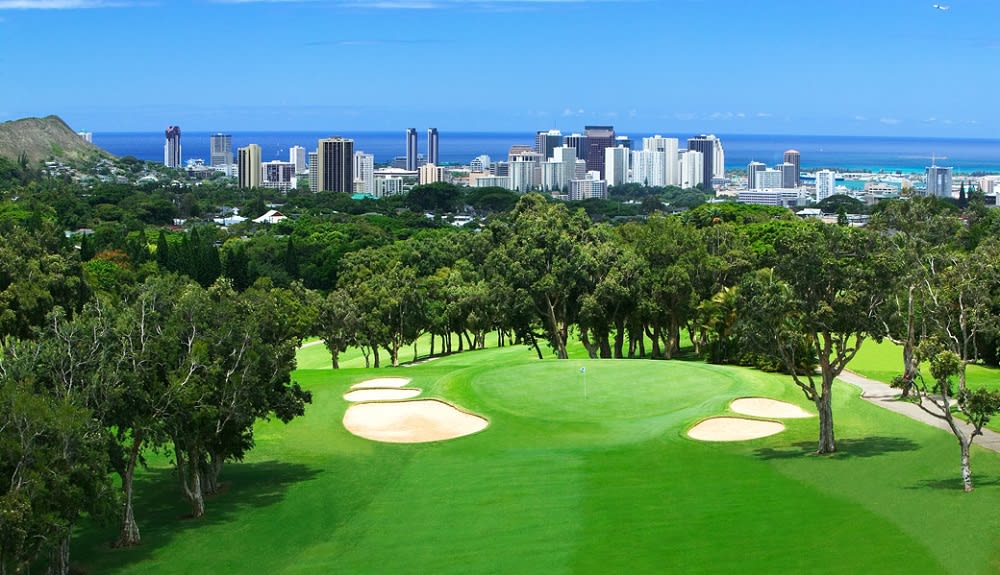 Image courtesy of Oahu Country Club.

The Oahu Country Club was founded in 1906, and it is known for being one of Hawaii's "oldest and most respected country clubs." This private, 18-hole course requires strategic selection for golfers to execute each move perfectly, as the course is filled with tropical plants and quick greens.

The Oahu Country Club hosts the Manoa Cup Championship, the oldest continuous golf tournament in the state. As a member of the Oahu Country Club, you'll have access to the clubhouse, pool, dining, and stunning grounds.

Oahu is meant to feel like a home away from home for members, and there are various membership categories aimed to provide each client with what they're looking for. With different privileges, fees, and monthly dues, you're likely to find a membership that suits your golfing needs.
Location: 770 Auloa Rd, Kailua, HI 96734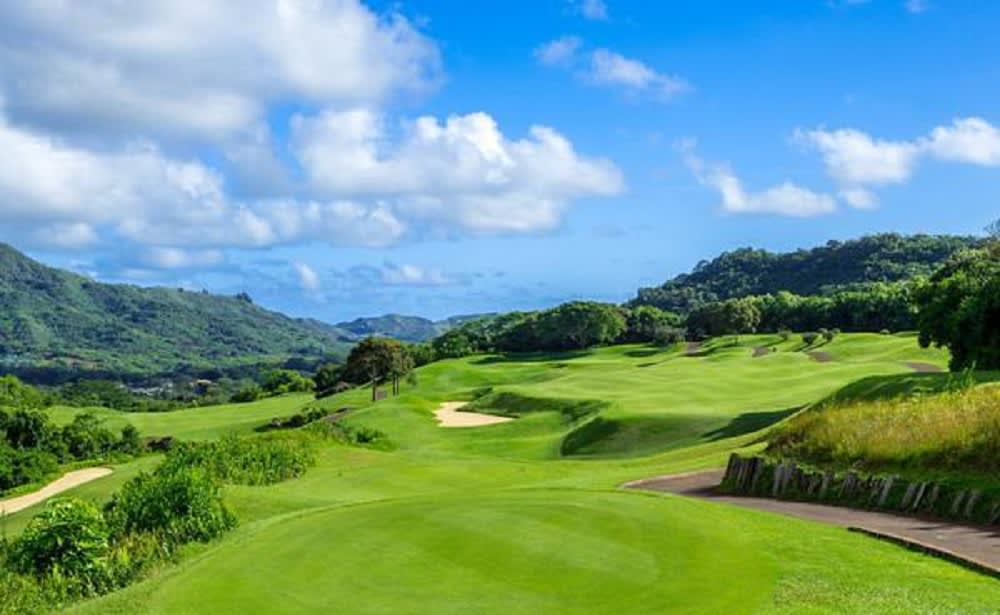 Image courtesy of Royal Hawaiian Golf Club.

The Royal Hawaiian Golf Club is situated between Mount Olomana and the Ko'olau Mountains, providing golfers with some of the most breathtaking views on the course. The public, 18-hole course was first opened in 1993 and designed by two renowned architects. The course recently underwent a facelift by golf hall-of-famer Greg Norman, which resulted in jaw-dropping updates.

The club is also equipped with a 45,000 square-foot clubhouse, giving all golfers access to lockers, showers, and food and drinks. The Royal Hawaiian Golf Club's location makes it a hidden course, but it's one you'll want to explore. Book a tee time today!
Location: 91-1200 Fort Weaver Rd, Ewa Beach, HI 96706
Image courtesy of Hawaii Prince Golf Club.

The Hawaii Prince Golf Club was founded in 1992. Featuring three interchangeable nine-hole courses, the club provides a unique variety of challenges for all levels. While the courses may be manageable, they're not easy. Filled with 90 white-sand bunkers, all levels will be challenged at their precision. The fairways are lined with 10 lakes giving golfers a picturesque view with each stroke. All the challenges and features at this club make sense, as the courses were designed by Arnold Palmer and Ed Seay, giving the club a touch of history as well.

The club offers various rates for locals and visitors depending on how many times you want to visit. As a visitor, you'll have full access to the club's facilities, which include:
All-grass driving range
Putting and chipping greens
Full-service pro shop
Locker rooms
Shower facilities
Restaurant serving lunch and drinks
Whether you're looking for a piece of Honolulu luxury real estate to call home or for a second home, Tracy Allen will deliver. As one of the top realtors on Oahu, and with over 30 years of experience, Tracy can transform, navigate, and negotiate your dream Honolulu home.

Tracy Allen knows luxury real estate in Honolulu like none else, providing you with exactly what you're looking for in a home. For top-tier assistance with your current property or finding a new location, contact Tracy Allen.

*Header Image Credit: Turtle Bay, Arnold Palmer Course