One of the best parts about living in Honolulu is the rich, diverse culinary scene. Meeting friends for lunch at a top-rated restaurant is a highlight of island life and an even better experience when your dog gets to join in on the fun! Honolulu offers hundreds of dog-friendly restaurants and bars that not only accommodate your furry friend but cater to their needs as well. Here are a few of our favorite local spots!
Nico's Pier 38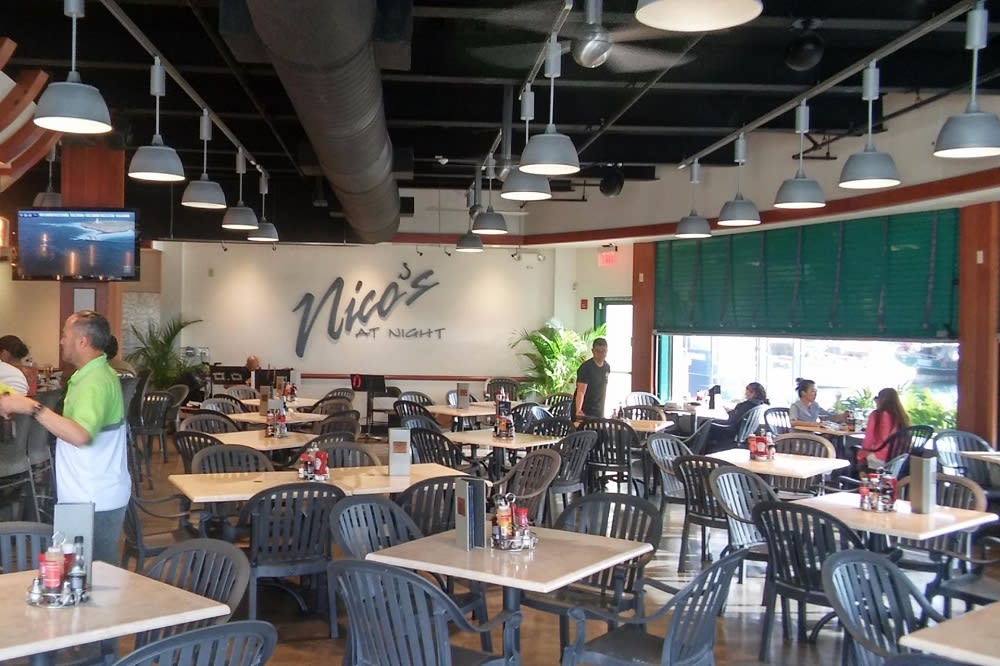 Photo courtesy of TripAdvisor
Visit
Nico's Pier 38
next to the fish markets on North Nimitz Highway for an insanely fresh meal. Nico's offers fresh poke bowls, fried Ahi belly bites, and a rotating specials menu featuring a catch of the day plate, a surf 'n' turf entree, and Pupu specials. Make sure to stop by during their
live music sessions
, where an eclectic mix of local musicians entertain guests by the pier almost every day. Dogs are welcome to enjoy the scenic patio with their owners and take in the delicious smells and friendly crowds.
Proof Social Club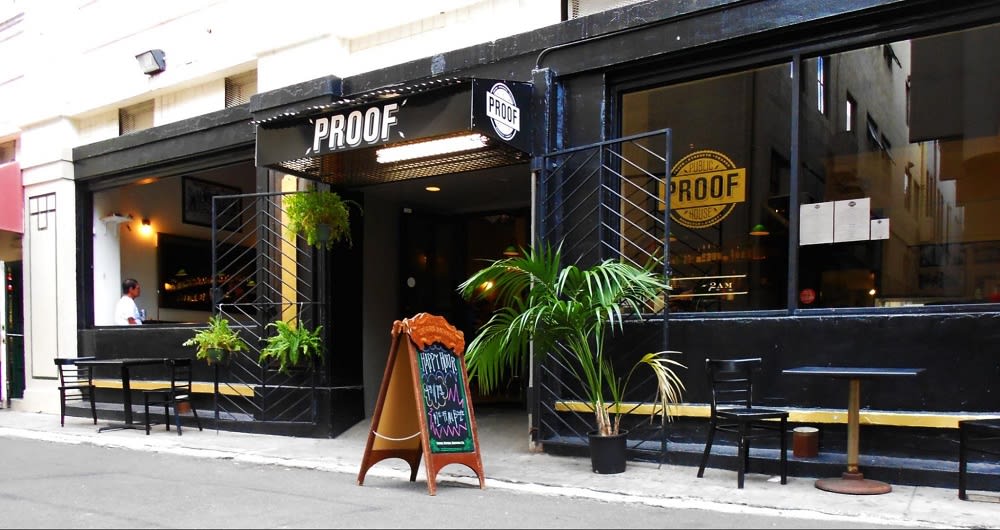 A vibrant pizza shop with dog-friendly benches,
Proof Social Club
is a favorite spot in Chinatown to grab a drink with friends and bring your pup along for the ride. Offering an incredible
menu
with sizable portions and
fun cocktails
in the heart of Honolulu, Proof Social Club (formerly Proof Public House) welcomes dogs both indoors and out. Their funky atmosphere pays homage to Honolulu's history and mixes contemporary design with a vintage club feel. Check out their pool table, free-sharing library, free Wi-Fi, and French press coffee in their new nook created specifically for students and remote workers.
Barefoot Beach Cafe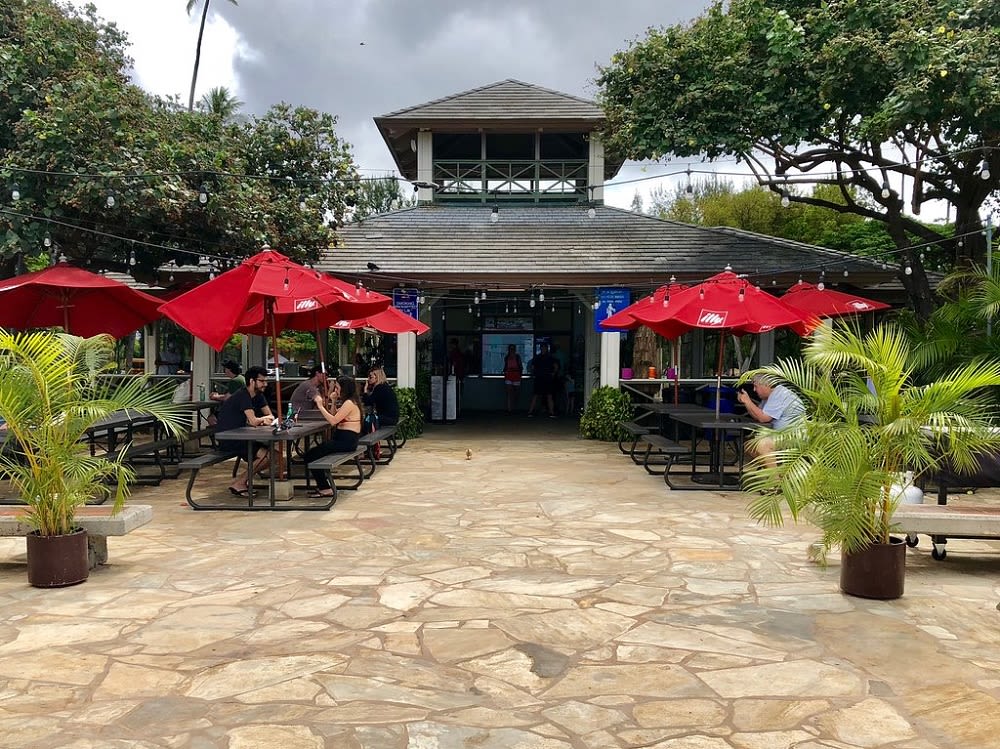 Promising aloha in every bite, the
Barefoot Beach Cafe
is one of the island's most-loved spots. Situated along the water, the restaurant offers incredible sunset views, American/Hawaiian cuisine, picnics in the park, live music, and private beach luaus. Located on the shores of Waikiki Beach, Barefoot Beach Cafe is the best place to visit to enjoy gorgeous views while indulging in
gourmet meals
. The friendly, dog-loving staff and expansive patio and lawn space make the perfect combination for an evening out with your pup. If you choose to attend a Picnic in the Park, make sure to bring a blanket and a frisbee!
Blue Water Shrimp
Family-owned and operated,
Blue Water Shrimp
caters to all your family members, including the furry ones! Located inside the
Hilton Hawaiian Village Resort
, Blue Water Shrimp is a dog-friendly site where guests can enjoy a gorgeous outdoor eating area. Place your order at the window for a fresh poke bowl or fish tacos with huge portions and relax while the friendly staff brings your order to your table.
Brothers Chef Glen and Gilbert Sakaguchi run the restaurant, which began as a food truck in 2005. They grew their brand to include ten trucks throughout the island and eventually opened a location inside the resort. Each meal is
"Instagram-worthy"
— loaded with color, flavor, and intricate beauty, making Blue Water Shrimp one of Honolulu's hidden gems and the best outdoor restaurants to enjoy with your pup.
Aloha Beer Company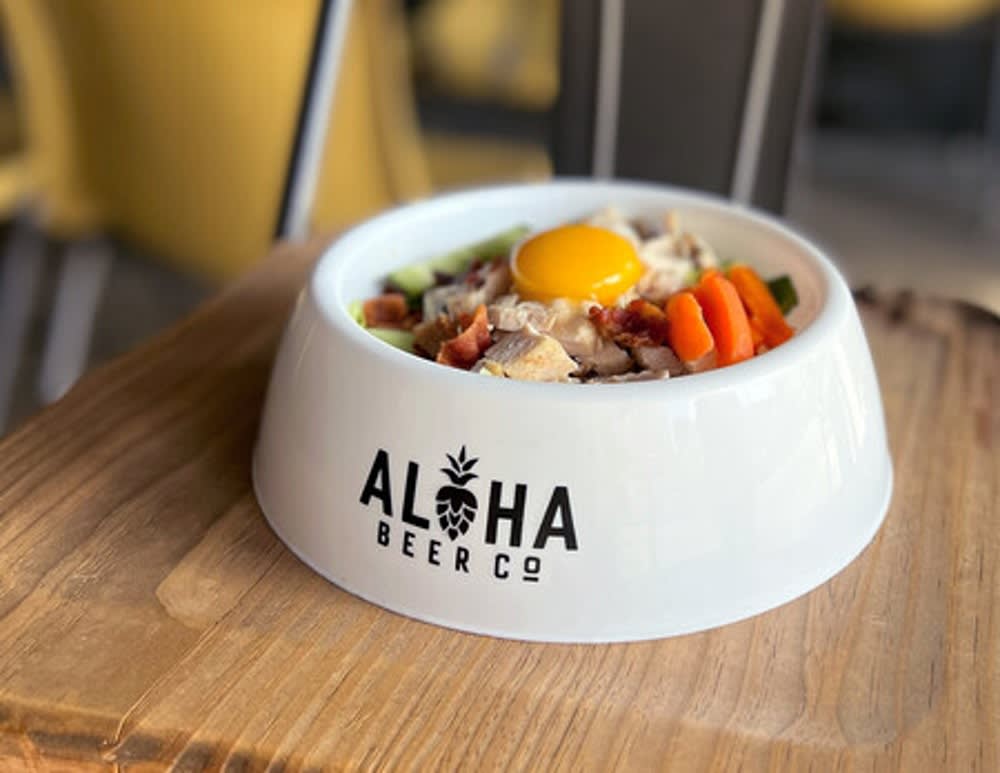 This casual brewery believes everyone deserves to experience the warm celebration of aloha in Hawaii.
Aloha Beer Company
was established to invite everyone to the shores of Hawaii, whether they live along the beach or across the world. Life in Hawaii is full of adventure, and Aloha Beer aims to bring that adventure straight to your door.
If you're visiting their brick-and-mortar shop, bring your dog to enjoy a cold one in the outdoor garden. With a sense of inclusivity and collaboration, Aloha Beer Company offers exceptional brews, great company, and tasty bites to enjoy with family, friends, and pups. They love when dogs visit and even have a special section of their menu for
Doggie Snacks
.
Waffle and Berry
A small Hawaiian waffle shop,
Waffle and Berry
features all things waffle, berries, and fruit and is known throughout the island for serving "Hawaii's Best Açaí Bowl." Locally funded and operated, Waffle and Berry serves fresh and delicious smoothie bowls, desserts, and traditional mocktail mojitos and mules made with fresh fruit. Their famous açaí bowls are dairy-free, vegan, and gluten-free and made with the highest-quality local ingredients. Add your toppings at the "Superfood Mini Bar," like chia seeds, hemp seeds, and bee pollen, and enjoy your cold treat outside the
Ohana Hale Marketplace
, Hawaii's largest indoor market.
Sweet E's Cafe
A casual-chic eatery that serves breakfast and lunch options all day,
Sweet E's Cafe
is a family-operated restaurant that believes the way to anyone's heart is through their stomach. Offering dog-friendly spaces in Waikiki, Sweet E's is the perfect spot to enjoy an excellent breakfast (try their Kalua Pig omelet) with friendly and accommodating staff. Sweet E's is known for providing outstanding service to their guests, making the already-mouthwatering meal that much better! Keep in mind that this cozy restaurant gets reasonably busy on the weekends, but it's well worth the wait!
Greek Marina
Located along the Koko Marina waterfront,
Greek Marina
is home to a mouthwatering assortment of Greek delicacies made with local, organic ingredients. A community favorite of locals and tourists, Greek Marina offers outdoor, dog-friendly seating with entertaining views of the bustling marina. It's one of Honolulu's most popular dog-friendly spots, so make sure your dog gets along well with friends! Favorite menu items include homemade hummus, fried eggplant, and authentic gyros.
Bevy Bar
Located in the vibrant neighborhood of Kaka'ako,
Bevy Bar
specializes in handcrafted cocktails made with fresh ingredients. Their food menu is carefully paired with curated drinks for an ideal culinary experience. Bevy Bar focuses on sustainable practices and minimizing its environmental footprint. Visit them on the weekends for the best DJs in Honolulu and bring your dog to enjoy the casual, rustic ambiance and delicious bites.
Menu items
feature the crowd-favorite steamed mussels, Mahi Mahi fish tacos with papaya, and the short rib poutine with blue cheese.
Morning Brew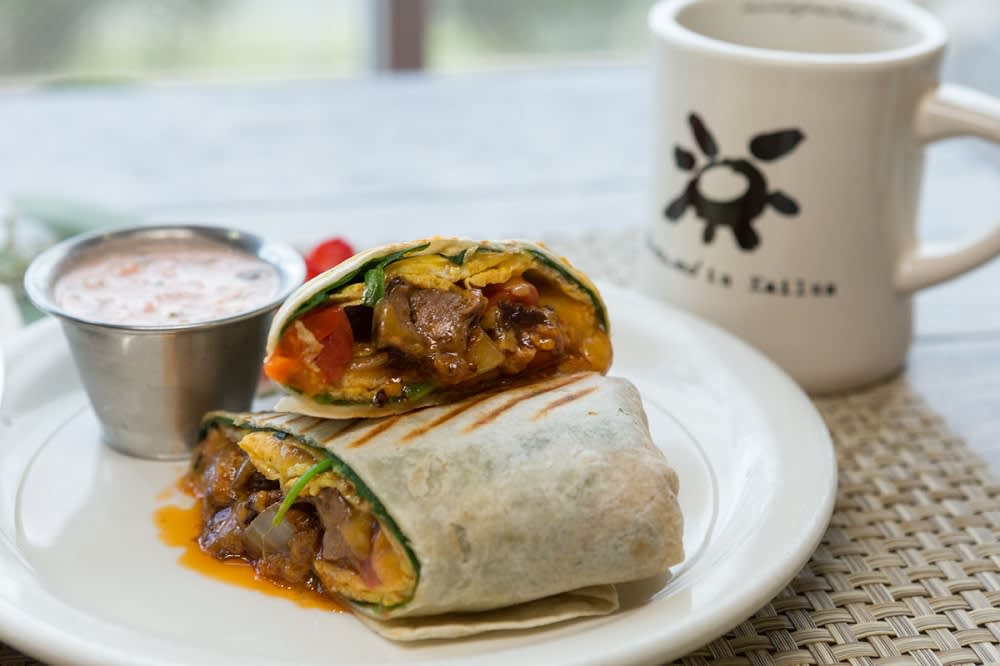 Morning Brew Coffee & Bistro is Honolulu's go-to spot for fresh, organic coffee with the friendliest service on the island. Morning Brew aims to bring the best to the island with a new vegan breakfast menu with attentive service, friendly staff, and even better food. Morning Brew offers an expansive (and delicious) coffee
menu
and features out-of-this-world vegan pancakes, Belgian waffles, rice bowls, breakfast burritos, and dozens of sandwich options for lunch.
With two locations in Kailua and Kaka'ako, Morning Brew has been serving up aloha since 1995. The happy and vibrant cafe is painted in a warm pastel yellow, welcoming guests to sit down with their pups after a long morning walk and enjoy a satisfying meal. Local art decorates the walls and old-school crystal chandeliers line the ceiling, rounding out the funky and eclectic atmosphere of Morning Brew.
Muki Dogs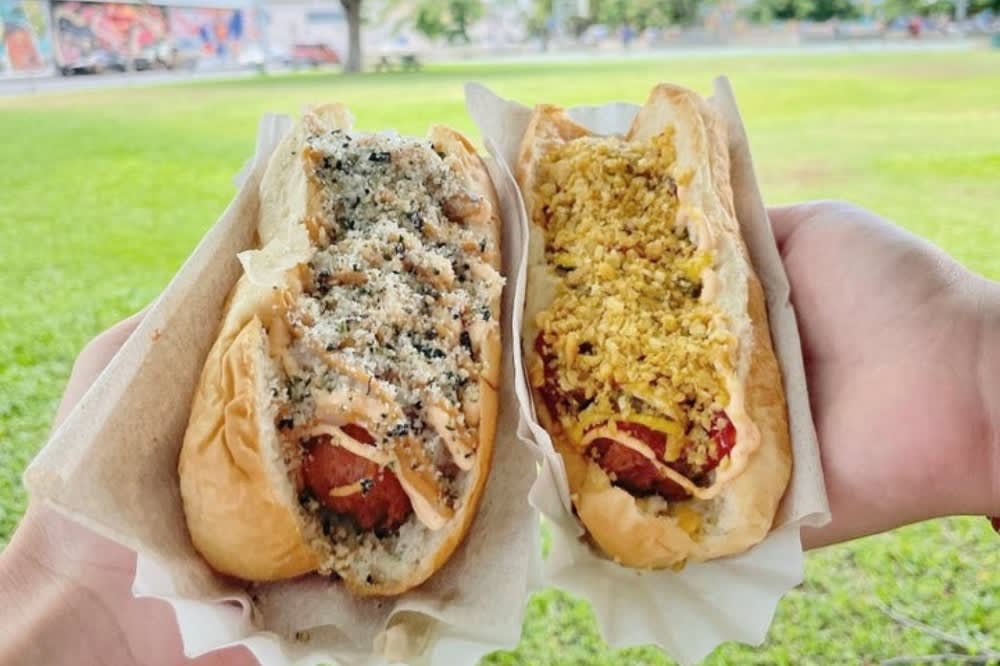 For a unique experience and a quick bite, visit
Muki Dogs
— a traditional vegan hotdog stand with three
locations
in Honolulu. Conceived during the COVID-19 pandemic, Muki Dogs aims to keep things "cool and simple" with an entirely plant-based menu featuring simple ingredients that pack a punch.
Owner Gene Marques had an old hot dog stand collecting dust in his garage when he got an idea and ran with it. Thanks to a pandemic meat shortage, his only option was to get creative with plant-based ingredients. The result? Gourmet-style hot dogs with fresh ingredients. Muki Dogs offers two unique Beyond Meat dogs with a Spanish crumble topping, or a miso furikake crumble. Find the stands on Waialae Avenue, Monsarrat Avenue, and Cooke Street in Honolulu. And, of course, bring your dog to enjoy the best plant-based dogs on the island!
If you're looking for a dream location to share with your pup in Honolulu,
contact
Tracy Allen to find your next luxury home on the island. Specializing in Honolulu real estate and luxury homes throughout Oahu, Tracy has been an industry leader for over 32 years. With an award-winning dedication to her clients and business, Tracy is the top-producing agent in Hawaii and offers unparalleled service. Contact her today to find your dream luxury home in paradise!