Shave ice. Yes, shave ice, not shaved ice, often referred to as a snow cone. If you're not from Hawaii, this might be baffling to you too. However, there is quite a difference between these chilly treats.

Shave ice, often found in Hawaii, is an ice-based dessert made by shaving a block of ice. Although the results may look similar to a snow cone, snow cones are made with crushed ice. The shave ice creates a light texture that not even the best snow cones could imitate. The sheer flakes of frozen water absorb the fresh flavored syrups, making each bite unforgettable.

Say goodbye to snow cones that let all the flavoring collect at the bottom, and say aloha to Honolulu's best shave ice spots.
Waiola Shave Ice
Must try: Strawberry

You can find Waiola's shave ice in the original mom-and-pop grocery store once known as the Koide Store. Waiola's syrups are homemade in small batches with local fruits grown in Hawaii to preserve their freshness. This place is popular, so the line might be long, but it's so worth the wait—and the line moves quickly! Try some local favorites like strawberry, rainbow, melon, lime, or create your own.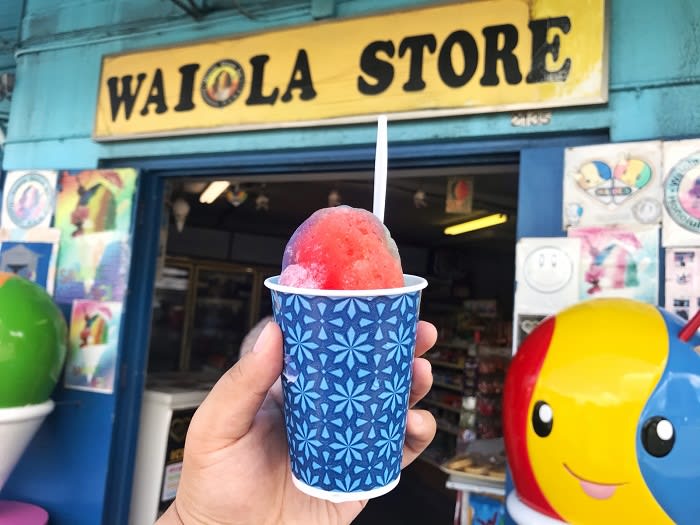 (Credit: Honolulu Magazine)
Matsumoto's Shave Ice
Must try: Your favorite flavor + vanilla ice cream

Matsumoto is located on Oahu's North Shore. Local shave ice is essential to areas that are often home to surfers, like Haleiwa. Matsumoto has been serving the North Shore since 1951. This local favorite was originally a grocery store, but it wasn't until they had the opportunity to expand their business and settle on the North Shore that the Matsumoto family began to sell shave ice. On a sunny day, Matsumoto's serves around 1,000 shave ices with homemade syrups. This shop has over 30 syrup flavors for guests to choose from. A Matsumoto favorite is adding vanilla ice cream to your favorite shave ice flavor, something unique to Matsumoto's. This shop is a favorite for locals and visitors from all over the world. If you are near the small town of Haleiwa, you'll have to cool off at Matsumoto's.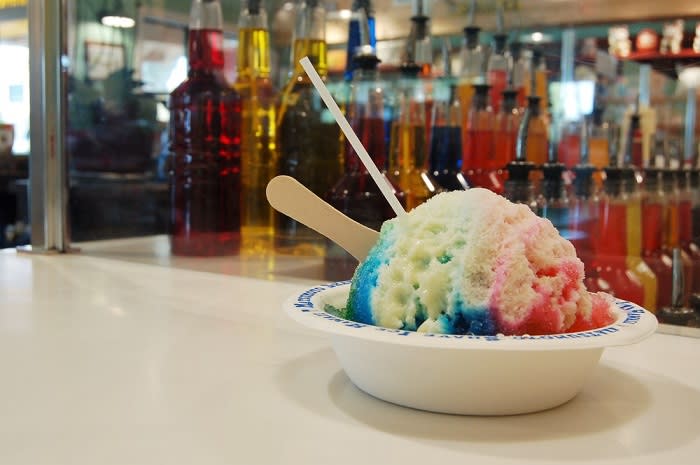 (Credit: Matsumoto Shave Ice)
Uncle Clay's House of Pure Aloha
Must try: Strawberry Sorbet

Uncle Clay's House of Pure Aloha has been serving up shave ice and smiles for the past 25 years. The owner, often called "your Hawaiian Uncle," provides loads of inspiration with every visit. Clay's store once started as a dream that turned into a reality after years of hard work.

Uncle Clay's House of Pure Aloha makes their shave ice with real, fresh fruit and local ice cream. The beautiful way Uncle Clay serves his shave ice will make all your friends and followers jealous—your order is guaranteed to be picture-perfect! Prices are affordable at Uncle Clay's, starting at just $2.25 for a small shave ice. The flavor combinations seem infinite, so start tasting and exploring! Some of Uncle Clay's House of Pure Aloha's most popular flavors include:
Tahitian Vanilla
Chocolatey Chocolate
Coconut Haupia
Mango Sorbet (vegan)
Check in frequently because Uncle Clay is always adding new featured flavors!
Ailana Shave Ice and Café
Must try: The Tropical Trio (mango, papaya, and coconut)

Ailana Shave Ice and Café is a vintage shop in Honolulu that serves fresh, homemade syrups with hints of Hawaii in every bite. There are various flavor selections to choose from, and the shave ice will come out looking perfect in your Instagram photo. Some of Ailana Shave Ice and Café's syrup flavors include:
Mango
Rasp-Cranberry
Jasmine Tea
Papaya
Grapes
If you're looking for a traditional Hawaii flavor, Ailana Shave Ice and Café has those too! Local favorites include:
Rainbow
Dreamsicle
Bubblegum
Passionfruit
Li Hing Mui
Kaimana Shave Ice
Must try: Piña colada

Kaimana is one of Honolulu's more eclectic shave ice options. Their syrups are made in-house from local ingredients, which not only makes your shave ice healthier but also tastes fresher! By creating their syrups in-house, Kaimana can also create some unique flavors, such as pickled green mango. Their presentation is so pretty and picturesque—ices are often topped with an edible flower. You can even get your favorite flavor topped with vanilla ice cream. When you visit Kaimana, you have to try their piña colada, a combination of their homemade macadamia nut ice cream and their pineapple shave ice.
Kahala Shave Ice
What you have to try: Mountain Apple

Kahala is a hidden gem located in the Our Kaka'ako marketplace. It is one of the few shave ice spots that offers organic syrups. Kahala uses locally grown fruit for its flavors, which brings in the taste of Hawaii to your shave ice. Unique flavors such as mountain apple and jaboticaba can be found at Kahala. With its health-conscious syrups, budget-friendly prices, and unique flavors, Kahala is a hidden spot that everyone needs to discover.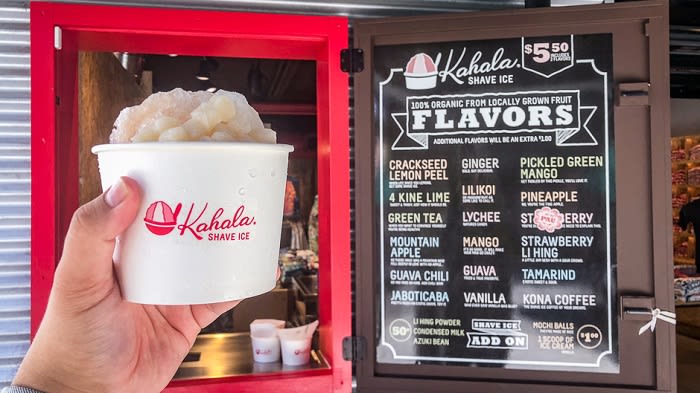 (Credit: Honolulu Magazine)
Island Vintage Shave Ice
Must try: Mango with Haupia ice cream

At Island Vintage Shave Ice, you won't just get fresh syrups—you can also top your shave ice selection with fresh fruits! Island Vintage is known for its smooth and fluffy ice, which is guaranteed to set the perfect tone for your shave ice creation. Some of Island Vintage Shave Ice's unique flavor profiles include:
Coconut Island
Heavenly Liliko'i
Green Island
A small portion starts at just $5.95, but don't worry—you can always size up!
Shimazu Store
Must try: Root beer

Shimazu started off serving out of a cart in Miliani. Since then, Shimazu has moved into its own store, offering over 70 exclusive handcrafted syrups. With this many options, you're bound to create a refreshing, one-of-a-kind shave ice experience. Some of Shimazu Store's unique shave ice flavors and combinations include:
Peaches 'n' cream
Green Milk Tea Royale
Durian
Monsarrat Shave Ice
Must try: Red Velvet Cream

Monsarrat Shave Ice is another local favorite. Their syrups do not contain any artificial flavors or colors. Monsarrat uses natural fruits and sources their sugar from Japan to provide an especially refreshing experience. Some of Monsarrat's unique flavors include:
Strawberry Crème
Mango
Mojito
Red Velvet Cream
Crème brûlée
Lychee
Longon
Li Hing Mui
Green Milk Tea
Melon Bar Cream
Haupia
Your Kitchen
Must try: Mango with Haupia ice cream

Your Kitchen allows you to grab a quick bite to eat plus some shave ice. Their handmade flavors are out of this world! You might even find pieces of mango in your shave ice since each order is made with fresh, local fruits. One of their specialties is mango with haupia ice cream, a must-have when you visit. Their ice is powdery soft—a sign of only the best shave ice. Your Kitchen will leave you wanting to take one for the road!
Island Snow
Must try: The Snowbama

Island Snow is an excellent place for shave ice newcomers to get a taste of what the locals rave about. Its modern, industrial location makes Island Snow a must-visit. Former President Barack Obama is an avid fan of Island Snow, so much that he even has his own shave ice named after him: the "Snowbama." The Snowbama features a delicious combination of lemon-lime, cherry, and passion guava. Some other notable flavors include pineapple, guava, and bubblegum. Island Snow also gives visitors the option to add ice cream at the bottom.

Hawaii's way of life is enough to make most people move here, but if these shave ice shops have shown you anything about the Hawaiian culture, we're sure you're looking to make the move.

Whether you're looking for a luxury home in Honolulu or a house for sale on the North Shore of Oahu, Tracy Allen can make your dream a reality. Tracy has been an industry leader for over 32 years and truly knows the area. She was even ranked the No. 1 Individual Sales Agent in Hawaii. Tracy can help make your Hawaiian dreams come true, so what are you waiting for?